Bees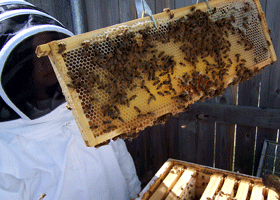 Every year when we visit the State Fair of Texas we make absolutely certain that we do three things; pay our respects to Big Tex, enjoy a Corny Dog and Dr. Pepper, and spend time going through the Food and Fiber Building. The Food and Fiber Building is a celebration of all the best that Texas agriculture has to offer. A broad selection of Texas agricultural industries and products is represented, from cotton and chickens to cattle and forestry and everything in between. Free pamphlets and taste tests of Texas products ensure that you have something to take with you when you go.
One booth that we never miss is run by the Texas Honey Producers and two years ago the volunteer running the booth was particularly helpful. He first loaded our bags with honey recipes and brochures and then patiently answered all our questions about bees and beekeeping. Through him we found the names of local beekeepers clubs as well as the information on beekeeping classes. We also learned our first lesson, beekeepers are very helpful, love their bees and are always willing to share what they know.
Getting bees was definitely a huge step out of our comfort zone, but it's one we don't regret. Nothing can compare with the experience of opening a hive for the first time. Coming face to face with 50,000 bees calls up every primal instinct! The buzzing brings on a tremendous urge to flee. Click on the sound file below to hear what the buzzing in a hive sounds like.
Click HERE to listen to the sound of our buzzing bees.
So You Think You Might Want Bees...
If you think you want bees you must do your research. Acquiring hives should not be an impulsive decision. Aside from the potential for being stung (which in our experience has only happened twice due to our own stupidity), the start up costs are not something to take lightly.
STEP 1: Check city codes to determine if hives are allowed in your neighborhood! Do not invest a single penny until you are fully satisfied that bees are permissable. Consider calling your homeowner's insurance representative and see what she/he has to say about your idea. We also recommend that you mention the idea of keeping bees to your neighbors. Don't think you can secretly keep bees, because you can't. There are those who have legitimate and serious allergies to bee stings, however many people are afraid of bees out of ignorance so before you speak with your neighbors have your facts straight. Be aware that if you do get bees, anyone who is bitten in your neighborhood will always be bitten by one of your bees. Never mind that there were bees in the neighborhood long before your hives arrived on the scene, it will always be one of yours.
STEP 2: Start reading! Familiarize yourself with the vocabulary and general concepts. A list of our favorite books is available in the resources section of this website. Books are available from any bookseller, as well as apiary supply companies. You can sometimes find used copies listed on Ebay, but generally used prices are about the same as buying a current edition. Surf the web and request catalogs from apiary supply companies.
STEP 3: Find a beekeeping class, or at the very least visit a local beekeeper to see a hive in person. Check the contact information on bottles of locally produced honey for phone numbers of beekeepers who might be able to direct you towards a class or who might be willing to function as a mentor. Community colleges sometimes offer courses through the continuing education division. Check with your local extension agent to see if they have any suggestions or contact names. Most states (if not all) have a state wide beekeepers organization. Surf the web and see if there are any beekeepers clubs in your area. If there are, attend a few meetings. Beekeepers are a very friendly and generous group of people who are always delighted to educate others about their bees.